Hours of Operation: Fall 2020 - Updated 11/13/20
La Posada Dining Hall will be exclusively available to the resident, meal plan holders of UNM Housing, Casas del Rio, Lobo Village, and Lobo Rainforest until further notice. Please remember to refrain from La Posada while you observe the 14 Day Limited Interaction protocols for out of state students. Students observing Limited Interactions may use meal swipes at SRC Market and Union Club. 
Meal Plan Swipe Locations
La Posada Dining Hall
11/13/20 - 11/25/20
Open Daily
6:00 AM - 11:00 PM
11/26/20 - 11/28/20
Closed
11/29/20 - 12/12/20
Mon - Fri - 8:00 AM - 8:00 PM
Sat & Sun - 10:00 AM - 7:00 PM
Convenience and snack items also available in La Posada. 
12/13/20 - 12/22/20
Open Daily*
10:00 AM - 4:00PM
*Convenience, snack, ready to eat cold meals, and heat and serve meals available.
Einstein Bros. Bagels
11/13/20 - 11/20/20
Mon - Fri - 8:00 AM - 2:00 PM*
*Closes for the semester on 11/20/20
SRC Market
11/13/20 - 11/25/20*
Open Daily 24 hr**
*Closes at 6pm on 11/25/20
**Interior closed for cleaning from  2:00 AM - 3:00 AM.
Window service available during cleaning.

11/26/20
11:00 AM - 2:00 PM
Use a meal swipe to pick up a hot traditional turkey dinner or vegan meal and purchase other retail items.
11/27/20 - 11/30/20
11:00 AM - 7:00 PM
11/30/20 - 1/3/21
Closed*
*Convenience and snack items available in La Posada 12/1/20 - 12/22/20.
SUB Locations
11/16/20 - TBD
All food venues inside the SUB will be closed starting 11/16/20 and will reopen with the building in Spring 2021. 
*Hours subject to change in alignment with new developments. Please check back often for updates.
** La Posada access is currently restricted to takeout dining only for student residents with meal plans. Please present your Lobo ID upon entry.
UNM Food
UNM Food is committed to providing an exceptional dining environment while ensuring quality food that addresses diverse nutritional and cultural needs of students, faculty, staff, conference guests and the community.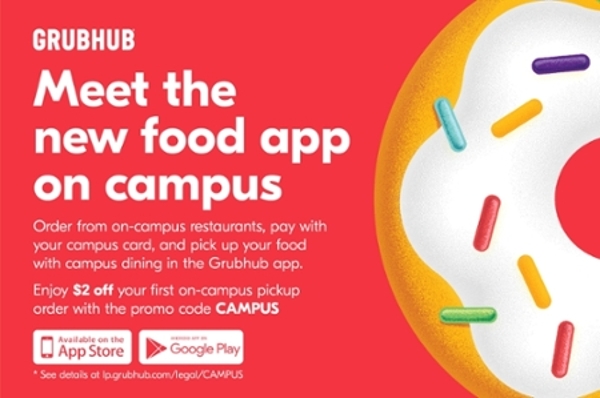 Read more about Grubhub on campus pick up service at UNM.
Learn which Meal Plan is best for you!
Learn about UNM Catering services.
Information. Services. Contact UNM Food